E' uscito da pochissimo il primo romanzo di una nuova serie di una autrice che io adoro, semplicemente.
Che scriva di Elena della serie Guild Hunter o dei fantastici Psy-Changeling, Nalini non mi delude mai. E con questa sua nuova avventura, un romance contemporaneo che entra nel mondo della musica, ancora sa farmi sognare.
 

Rating:

Editore
TKA Distribution
ISBN
9781937776992 paperback
9781937776985 ebook
Pagine
400
Prezzo
€ 11.70 brossura
€ 2.49 ebook
Uscita
9 settembre 2014

Acquista
LaFeltrinelli.it | Amazon.it |
inMondadori | IBS.it
Recensioni
Anobii | Goodreads
Rock Kiss #1
A bad boy wrapped in a sexy, muscled, grown-up package might be worth a little risk…
Molly Webster has always followed the rules. After an ugly scandal tore apart her childhood and made her the focus of the media's harsh spotlight, she vowed to live an ordinary life. No fame. No impropriety. No pain. Then she meets Zachary Fox, a tattooed bad boy rocker with a voice like whiskey and sin, and a touch that could become an addiction.
A one-night stand with the hottest rock star on the planet, that's all it was meant to be…
Fox promises scorching heat and dangerous pleasure, coaxing Molly to extend their one-night stand into a one-month fling. After that, he'll be gone forever, his life never again intersecting with her own. Sex and sin and sensual indulgence, all with an expiration date. No ties, no regrets. Too late, Molly realizes it isn't only her body that's become addicted to Fox, but her heart…

Molly è una bibliotecaria e si può dire che lo stereotipo del timido topolino per lei è ben azzeccato, anche se solo caratterialmente parlando essendo invece piuttosto formosa fisicamente. E' una ragazza semplice che ama la propria vita libera da complicazioni ed ordinata. Tutto l'opposto della sua infanzia che a 15 anni è stata travolta da uno scandalo legato ai genitori e che ora le fa temere l'attenzione altrui… di qualsiasi tipo.
Fox è una rock star il cui unico interesse è fare musica ma anche trovare quel qualcuno di speciale con cui condividere le proprie passioni e la propria vita. Anche Fox ha un passato difficile, essendo stato abbandonato dalla madre praticamente dalla nascita.
La parte romantica non tarda ad arrivare e da subito, durante un party tenuto dalla sorellastra di Molly, i due iniziano una danza che dovrà passare alcuni ostacoli per trovare un terreno solido su cui poggiare. Perchè da subito Fox è convinto Molly sia la Lei che cercava, mentre Molly lotta costantemente con un passato che le ricorda il futuro che stà per iniziare con Fox mettendole in testa paure e insicurezze che Fox dovrà abbattere a suon di rock kiss.
Gli altri romanzi della serie: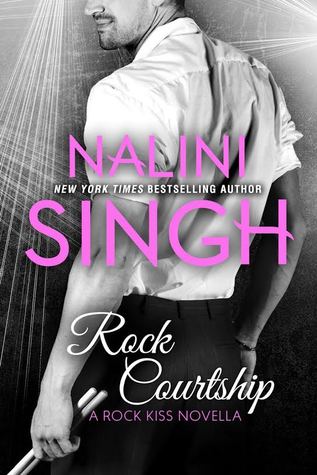 Summary
Reviewer
Review Date
Reviewed Item
Rock Addiction by Nalini Singh (Rock Kiss #1)
Author Rating